Home automation or smart home is a complete system that uses technology to add comfort, convenience to our life, makes lifestyle pleasant and most importantly, adds security to our family and property. The home automation system not only saves your time but it can also save some most important resources like energy and water.
Starting from any appliance or equipment like air conditioning, fans, motors, music systems, interior and exterior lighting etc to windows and doors, almost everything can be controlled in your home with the help of home automation. A simple touch panel can switch on or off any equipment on demand. Sensors and timers can also be used to adjust the operation of the appliances at predetermined times.
The entire home automation system functions on internet. Mostly a wireless connection or WiFi is used to remotely control the appliances and a user interface to interact, which could be a mobile phone, a desktop/laptop or a wall-mounted terminal. In today's modern world, these devices also function via internet cloud services which has made control more easy and hasslefree.
Centralised home control systems are available which control almost every major appliance in your home including lighting, audio/video and heating/cooling devices. Isolated sensors can also be used to control individual equipments instead of one integrated system and all of this is done using a wired or wireless communication.
The home automation system not only adds convenience to your life but also increases the security of your home with ease. With a single tap, you can lock down all the doors and windows and arm the security system. Upon hearing anything unusual or strange, you can switch on the lights with a single button.
Home security systems can also decrease the total energy consumption of your house by using the appliances effectively and you can further take an important step to save energy by installing energy efficient appliances such as LED lights. With the help of temperature sensors, you can control air conditioners and heaters only when they are needed. Heating or cooling the entire house is not required and you can use timers to control appliances for heating/cooling of various rooms. For example, living rooms can be heated/cooled during the day and bedrooms at night.
Moreover, passive heating and passive cooling can also save a large amount of energy for you. You can plan your home automation system to control windows, vents, awnings and blinds which can let the natural light in and nature's heating/cooling to save energy. A well designed automation system with your energy management strategies, can make the best use of our natural resources.
We at AlAlarms have helped in designing and installing a wide range of home automation systems in Sydney, New South Wales. With more than 10 years of experience in home automation and home security systems, we can provide you the best smart home solution as per your needs.
Our smart home systems include various other systems such as:
A light control system or Smart lighting is one of the most important section of a Home automation system. It can be used to provide the right amount of light when and where it is needed. These systems are not only used because of easy of handling and making life more comfortable, but they can also maximize your energy savings.
Home automation systems, especially smart lighting systems are used in a lot of places including commercial properties and offices which comply with green building and are a part of energy conservation programs.
The lighting control system can either be controlled manually just with the tap of one button or can be operated using timers set at predetermined times or using motion sensors. Timers or photo sensors can help in switching off lights during daytime and use the natural light to save energy. Timers can also be used to switch on the lights automatically during evenings.
Motion sensors are also sometimes integrated with the smart lighting system. These sensors detect motion and switch on the light of a room and when vacant, they automatically switches off the lights and other appliances. Rather than keeping the exterior lights switched on all night, motion sensors along with photo sensors, can be used to switch on the exterior lights when it detects any movement which can scare off an intruder. Motion sensors can majorly be used in washrooms and laundries where we spend only some time and the lights can be switch off automatically when not in use.
The major advantage of a smart home system is that it's just one simple to use system and it does all the work for you. It can not only control the home lighting but can also  interact with your audio/video systems, heating/cooling systems and most importantly, your security systems as well. Apart from installing different control units, you can have one simple system can does it all and one interface lets you control almost all appliances at your home.
Be it a new home lighting system installation or updating your old ones, AlAlarms can do it for you. We also have a good range of systems and can offer you the best one as per your requirements.
The lightings of the room is very important as a part of our daily lifestyle and the smart home lighting systems goes along with your mood. Want to listen to soft music with dim lights or prepare a meal with bright lights, the system does it all. Be it a romantic dinner or a movie time, change the lights as per your wish. You can also switch on the lights and air conditioners just before you are about to reach home which gives you a proper welcoming.
The smart lighting system can also be controlled remotely and it adds up to the security of your home. You can set the system to automatically switch on the lights when not at home and it feels that the home is occupied. Use of motion sensors can also eliminate the risk of intruders.
There is no other experience than sitting on your comfortable recliner with your favorite movie on the big screen with a surround sound music system, and all of this at your home. It's just like a cherry on the cake and is an unmatched experience. You can choose any music according to your mood with a wall-mounted controller or a remote and can installing multi-room music and video systems that can integrate as per your lifestyle.
AlAlarms can help you to choose the right home theater screens, projectors, speaker systems and other hardware components that may be required. Our experienced engineering team would visit your house and help you select the best system as per the space and budget available. You can choose from different brands available and get your personal theater at home.
Only a well designed audio and video system can give you an out of the world experience. It is very important to choose a perfect sized screen as per the room size and audio devices that can give you a soothing experience and our experienced team of engineers can suggest you the right system. Be it either multi-room audio system, a home theater room or music system for bathrooms, pools and garden, we got the right option for you.
It also depends if you want to install the audio/video devices in your living room or you want a dedicated home theater room. Dedicated Home theater rooms are normally soundproof, contain projectors or big screens, concealed speakers and have a large sitting space, so the systems are chosen as per that. A well designed home theater can give you a better experience as compared to commercial cinemas including the comfort of being at home. Control the entire audio/video system with the help of a remote and with the help of a button, you can dim the lighting system setting in the perfect mood.
You can also install the system in your living room and still get a matching experience. The audio devices can be hidden and concealed and a home theater which can fit in keeping the space intact.
It is always best to get the smart home system installed during your home's construction but our well expert team can also fit in the system in existing homes. The wirings, speakers and other hardwares can be concealed and you can have the best utilization of the space available. If the system is installed in multiple rooms, each room has it's own controller which is synced with the central system. A simple remote that can control the entire system and it can also integrated with other home automation systems like lighting systems and heating/cooling devices.
A home networking system is a mandate in smart homes so that you can connect all the devices including computers, mobiles, audio/video devices, lighting systems, security systems and more. Most of the audio/video devices which are available nowadays are capable of streaming online videos and music over the internet. A normal wireless internet connection is adequate only for computers and mobiles, however, as the number of devices increase, the signal strength gets poor which brings latency in streaming.
AlAlarms can help you overcome these problems by suggesting the right set of networking devices depending on the total housing area and the set of devices that are to be connected. We have helped our customer to install smart networking devices in Liverpool, Sydney as per their current and future requirements.
There is nothing best than a wired internet connection which guarantees speed, security and reliability and it is best to install these devices while construction. In case of a wired connection, it is very important to install a good wiring backbone and the greatest advantage of wired systems is that one device does not impact others and is just like a multilane highway.
Wireless networking system is best for existing homes as it is easy to install, however, the disadvantage with wireless systems is that one device impacts the connection speed of other devices as it is similar to a 2-way highway. Therefore, it is always recommended to keep a wired connection for fixed systems including audio/video, lighting and security and this would help to get a better speed for wireless devices because of less load.
However, there are ways to resolve the signal strength and coverage area of wireless networking systems as well.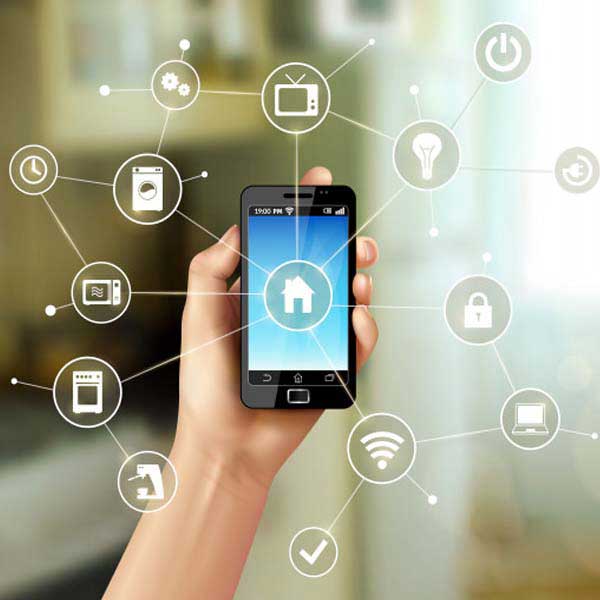 Appliances and Equipment Control
Most of the electronic devices can be connected to the Smart home system making your life much simpler and interesting. Apart from controlling major systems like lighting control, audio/video and heating/cooling devices, you can also control small or minor devices which require electricity including coffee machines, hot water systems, fans and exhausts, air and water pumps, garage doors, security systems, windows and awnings and other home/office electronic equipments.
Just imagine your day starting with dim lights and opening of windows and curtains and then a steaming cup of coffee and a nice hot bath. The lights and other appliances turn off when you leave for office and you are welcomed with wonderful music when you get back home. When you are off to bed, turn off all lights with the press of a button. All of this is possible only with a smart home solution and AlAlarms can provide you an energy efficient home automation system. We have got a well experienced engineering team that can design a system which would not make things complex for you, but easier and organised.
The appliances can either be controlled using a wall panel/remote and/or timers at predefined time. Standby controllers can also be used in appliances to automatically switch it to standby mode when not in use. Devices with inbuilt standby controllers like television and stereo systems can also be controlled.
The electronic appliances can also be controlled using individual sensors and timers but such systems are generally less efficient than centralised systems and the individual sensors may conflict with other sensors if not setup correctly. Centralised systems on the other hand have a network of sensors which are more intelligent and save more energy.
Energy and water management
A smart home is one which not only gives you full control for most of the appliances at your home, but it also helps you save two most important resources: Energy and Water. The home automation system would not only help you financially but it also benefits the environment. The home automation controller displays the power and energy consumption including costs, of all your appliances. Controllers which do not support this feature, a energy measuring device can be linked to the meter board which would display the total energy consumption. The system not only shows the real time data, but you can also check the past data and compare the energy consumptions. Moreover, it also shows other measurements like humidity level, hot water temperature and inside/outside temperature.
There are some smart devices available which enable the home automation system to control and manage the energy consumption, light sensors being the best example. With the help of these sensors, the home automation system can automatically switch on lights when someone enters the room and switch them off when vacant. Moreover, if there is sufficient natural light in the room, the sensor would not switch on the lights and with the help of timers, the system can also dim the lights at night. The entire lighting system is one of the most energy consuming factor, and the use of these sensors would make a measurable difference.
The other energy saving techniques include the control of vents, windows and awnings which can help in natural heating/cooling and lighting. We can design your system in such a way which could maximize the consumption of renewable resources and minimize your costs.
Similar to lighting, smart home system can also help you in water management. Use of pumps for pool and sprinkler systems can be controlled which would minimize the wastage of water. If water is available only at specific timings, the home automation system totally minimizes your effort and can control the appliances with the help of a timer.